The Pink Lady® Foundation was created in August 2016, and aims to support entrepreneurial and collective projects initiated by women, or for the benefit of women, by promoting the creation of values and the sharing of know-how as well as social and cultural progress.
common
VALUES
Such a committed approach was chosen in line with the brand values.
Every year, the Endowment Fund selects human-sized projects that correspond to its values and objectives with the help of a committee of experts.
Afrika Tiss
Promoting craftsmanship
Afrika Tiss is setting up initiatives aimed at promoting craftsmanship as a lever for economic and social development in France and Burkina Faso.
It brings together designers and craftspeople in order to promote the pooling of know-how and the emergence of innovative products.
It opened a hand weaving centre in Ouagadougou in 2014 with a view to promoting locally-grown cotton processing in Burkina Faso as well as Burkinabe know-how and talents.
The Pink Lady® Europe Endowment Fund provided financial support to the project, which aimed to empower 40 craftswomen by allowing them to live on their know-how.
Fair remuneration for their work.
Supporting professionalisation.
A training programme, which starts with an introduction to weaving on small looms.
Des Étoiles et des Femmes
Supporting and developing
The mission of the Des Étoiles et des Femmes (Stars and Women) project is to train, support and develop the employability of women from disadvantaged neighbourhoods through culinary excellence.
Located in 12 cities in France.
Each site supports 12 women from disadvantaged neighbourhoods to train for the CAP cuisine (French catering certificate) in 9 months.
Each apprentice is placed in a gastronomic or starred restaurant.
The association offers the apprentices social support services that help reduce the barriers to employment (transport, accommodation, childcare, etc.). The Pink Lady® Europe Endowment Fund provides financial support for the Marseille section.
SEVAI
Training and promoting
The SEVAI (Society for Education, Village Action and Improvement) programme offers women in rural and isolated villages in India opportunities to emancipate themselves via two programmes.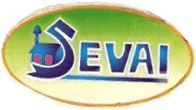 A professional training programme in computer science, sewing and medical care. These courses then allow the young women to do professional internships. They thus improve their employability in the labour market and are more likely to become financially independent.
The development of Self Help Groups aimed at creating economic activity in the region. The idea is to bring together 12 to 20 women so that they have access to government microcredit at very low rates and therefore start an economic activity.
The Pink Lady® Europe Endowment Fund provides financial support to the Self Help Groups programme in the state of Tamil Nadu, India.
The Pink Lady® Europe
commitment charter
Discover our
14 commitments